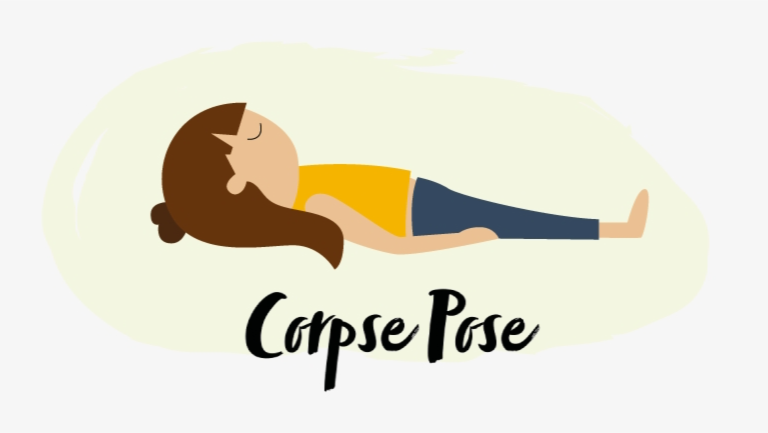 Though this yoga pose looks effortless, it could be challenging as it needs patience.
How to do:
Lie on the back with legs straight and arms at the sides. The arms should be at a minimum distance of six inches away from the body.
Keep the eyes closed, and palms faced upwards.
Keep the feet drop open.
Breathe normally while resting the body's weight on the ground.
Slowly exhale while relaxing and destressing all the body parts.
This is the best relaxing yoga pose for kids.
Benefits: Keeps the heart rate and blood pressure low; less tension of muscles; low metabolic rate; helps reduce insomnia, anxiety, and fatigue; improves productivity, memory, and concentration.
Cautions: Often, the body cools down, and one may feel relatively cold after holding this posture. Have a sweater or a pair of socks around your kid, in case they feel cold.
Relevant Blogs
The cat pose is a gentle kneading for the back and core.
This asana keeps the back and the spine healthy.
This asana benefits the internal organs of the body.
Bend the back like a bow and open the chest and shoulders with the bow pose.
Help your child de-stress with this animal asana; have them roar and enjoy.
The stretch will promote a sturdy back, abs and strength.
This asana improves lower back issues and anxiety.
This rejuvenating back-bend gives a good stretch to the spine and thighs.
This asana highly improves concentration.
This is a foundational pose for all the standing asanas and could be a calm-down yoga pose for children.
This asana will give relief to your child from anxiety.
This asana will help relax the back joints.
This asana will calm your child's mind.
This is the simplest of all poses that the child can try.